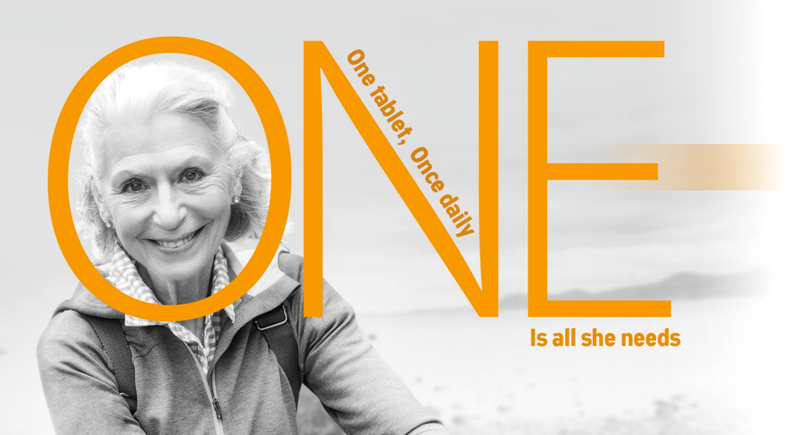 Vitamin D
& Bone Health
CALCI-D 1000mg/1000IU chewable tablets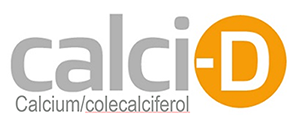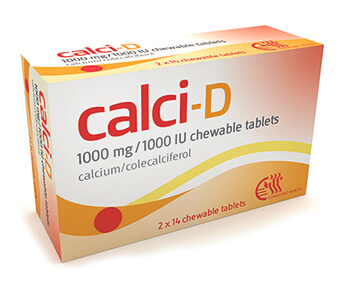 Nonadherence is a serious problem for patients on long-term treatment, leading to drugs falling short of their therapeutic goals.1
Commonly prescribed calcium/vitamin D chewable tablets are often twice daily regimens2 for patients who are deficient, with or without osteoporosis.
Once daily vs twice daily dosing could support higher adherence for some patients.3 Patients treated with once-daily dosing regimens for chronic illnesses were associated with an approximately 39–61 % higher likelihood of adherence compared with subjects on twice-daily regimens of venous thromboembolism medications.3
Calci-D is different to other combined calcium/vitamin D products because it combines 1000IU of vitamin D with 1000mg of calcium (2.5g calcium carbonate) in a convenient once daily chewable tablet4 at a cost of £2.25p for 28 tablets.
One of the key drug interactions with combined calcium and vitamin D preparations includes oral bisphosphonates, leading to reduced absorption of bisphosphonates. NICE advise to avoid administration of oral bisphosphonate and calcium supplements at the same time and to leave a gap between administrations.5
Patients may find once daily Calci-D more convenient to take than a twice daily supplement, when avoiding oral bisphosphonate administration.
What about absorption?
In 2000, a study by Scopacasa et al6 compared doses of 1,000mg of calcium carbonate given in the evening vs 500mg doses given once in the morning and once in the evening. Rather than measuring inferred calcium absorption through calcium urinary excretion, this study looked at the effects on pyridinoline and hydroxyproline which are bone resorption markers. Both regimens saw a reduction in these markers and the authors concluded that over a 24-hour period whether you gave 1,000mg as a single dose in the evening or divided over two doses of 500mg morning and evening the overall effect on bone resorption markers was the same.6
What about price?
Calci-D is the lowest priced combined calcium carbonate + vitamin D3 (colecalciferol) supplement listed in MIMS comparison of 'formulations, doses and costs of osteoporosis supplements', published Jan 2021.2
Correction of calcium and vitamin D
deficiency in the elderly
Calci-D may be used as an adjunct to specific therapy for osteoporosis,
in patients with either established vitamin D and calcium combined deficiencies or in those patients at high risk of needing such therapeutic supplements
References
1. Srivastava k et al. Patient Preference and Adherence 2013:7 419–434. http://dx.doi.org/10.2147/PPA.S44646
2. MIMS. Table: Calcium and Vitamin D Supplements for Osteoporosis. https://www.mims.co.uk/table-calcium-vitamin-d-supplements-osteoporosis/endocrine/article/1427976 [last accessed March 2021]
3. Laliberte F et al. Patient (2013) 6:213–224. DOI 10.1007/s40271-013-0020-5
4. CalciD summary of product characteristics.
5. NICE Clinical knowledge summary. Osteoporosis – prevention of fragility fractures: Calcium and colecalciferol (vitamin D3) preparations. https://cks.nice.org.uk/topics/osteoporosis-prevention-of-fragility-fractures/prescribing-information/calcium-colecalciferol-vitamin-d3-preparations/ [Last accessed March 2021].
6. Scopacasa et al. Calcif Tissue Int. 2000 Dec;67(6):440-2.